Submissions
Submitting an Article Online
To submit an article online, and to check the status of your submission, you need to have an account with Journal of Open Archaeology Data
Don't have an account? Register Here.
Start Submission
Author Guidelines
Authors are invited to submit manuscripts that fall within the focus of the journal. Please follow the below guidelines, and contact the Editor if you have any questions.
Submitting a data paper to JOAD is quick and easy, as follows. If you are submitting a paper about data that is already public, you can start from step 3.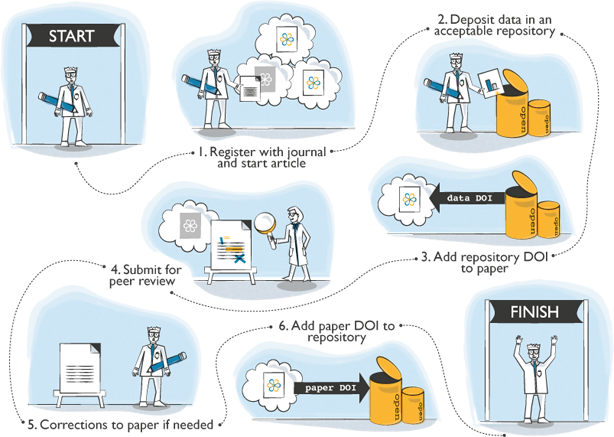 Register as an author with JOAD, and start your article. All JOAD data papers can be authored quickly and efficiently using our word processing template (see below).
Deposit your data in an acceptable repository. Please see our list of repositories, or choose your own. Please also read our list of peer review criteria, and aim to make sure that your data deposition meets these standards. Remember to make your data public so that the reviewers can find it.
The repository will provide you with a DOI (or similar persistent identifier) for your data. Please add this to your data paper under repository location.
When finished, submit the paper for review. A reviewer will get back to you and may recommend changes either to the way your data has been archived, or to the paper itself.
Make any changes the peer reviewer has suggested. Once your paper has passed peer review, you're almost there!
Finally, copy the citation for your article (including the DOI) and add this to the record of your data in the repository. Once this has been done, your article will be published immediately.
Templates
Please submit your completed template through the online submission system when ready for review.
Submission Preparation Checklist
As part of the submission process, authors are required to check off their submission's compliance with all of the following items, and submissions may be returned to authors that do not adhere to these guidelines.
The submission has not been previously published, nor is it before another journal for consideration (or an explanation has been provided in Comments to the Editor).
The submission file has been created from the JOAD article template.
Where available, DOIs for the references have been provided.
Tables and figures are all cited in the text. Tables are included within the text document, whilst figure files are uploaded as supplementary files.
The text adheres to the stylistic and bibliographic requirements outlined in the Author Guidelines, which is found in About the Journal.
Figures/images have a resolution of at least 150dpi (300dpi or above preferred). Each file is no more than 20MB per file. The files are in one of the following formats: JPG, TIFF, GIF, PNG, EPS (to maximise quality, the original source file is preferred).
All authors have given permission to be listed on the submitted paper and satisfy the authorship guidelines.
Copyright Notice
Authors who publish with this journal agree to the following terms. If a submission is rejected or withdrawn prior to publication, all rights return to the author(s):
Authors retain copyright and grant the journal right of first publication with the work simultaneously licensed under a Creative Commons Attribution License that allows others to share the work with an acknowledgement of the work's authorship and initial publication in this journal.
Authors are able to enter into separate, additional contractual arrangements for the non-exclusive distribution of the journal's published version of the work (e.g., post it to an institutional repository or publish it in a book), with an acknowledgement of its initial publication in this journal.
Authors are permitted and encouraged to post their work online (e.g., in institutional repositories or on their website) prior to and during the submission process, as it can lead to productive exchanges, as well as earlier and greater citation of published work (See The Effect of Open Access).
Submitting to the journal implicitly confirms that all named authors and rights holders have agreed to the above terms of publication. It is the submitting author's responsibility to ensure all authors and relevant institutional bodies have given their agreement at the point of submission.
Note: some institutions require authors to seek written approval in relation to the terms of publication. Should this be required, authors can request a separate licence agreement document from the editorial team (e.g. authors who are Crown employees).
Privacy Statement
The names and email addresses entered in this journal site will be used exclusively for the stated purposes of this journal and will not be made available for any other purpose or to any other party.
Publication Fees
Tax will be added to all fees charged, when applicable (includes VAT/Sales tax or any other applicable taxes).
If your paper is accepted for publication, you will be asked to pay an Article Publication Charge (APC) to cover publication costs, which can normally be sourced from your funder or institution. This fee covers all publication costs (editorial processes; web hosting; indexing; marketing; archiving; DOI registration etc) and ensures that all of the content is fully open access. This approach maximises the potential readership of publications and allows the journal to be run in a sustainable way. For a breakdown of costs, please click here.
Many institutions now have funds available to support open access publications by their staff.
If you do not know about your institution's policy on open access funding, please contact your departmental/faculty administrators and institution library, as funds may be available to you.
Several other foundations, institutes, societies and associations offer publication grants (not exclusive to Open Access) based on subject relevance. Here is a few of them relevant to history, archaeology and material preservation and conservation.
If published, you will receive an APC request email along with information on how payment can be arranged. 
A 30% APC discount is offered to any reviewer who has completed a review for the journal within the 12 months prior to submission. We simply ask that the review is completed and received on time (including any agreed extensions) and of reasonable detail. If you would like to take advantage of this offer, then please mention your review (ideally article title and date) in your cover letter when submitting to the journal.
Waiver Information
If you do not have funds available to pay the APC (e.g. because your institution/funder will not cover the fee) then we may be able to offer a discount or full waiver. Please ensure that you contact the editor at the time of submission (e.g. in the cover letter) should you need to discuss waiver options or the APC in general.
Editorial decisions are made independently from the ability to pay the APC.